3-Strikes-Rule Mess starts this week in France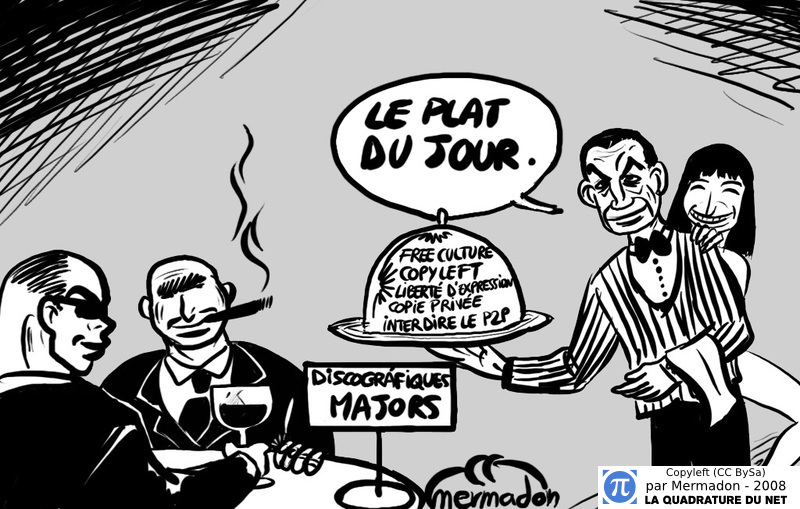 This week the sell-out policy of the 3 Strikes rule is starting. The Multinational copyright companies will require French ISPs turn over 150,000 subscriber names , addresses, mailadresses and phone numbers, per day. Detail: Multinational corporations are already flooding French ISPs with more than 10,000 requests a day for the personal information of accused infringers. Once a user has received three unsubstantiated accusations of infringement, the entire household is cut off from the Internet for a year, and it becomes a crime for any other ISP to connect that family or household.
Unsubstantiated? Well, there is NO check. Not surprising since even if they would check, they are paid by the requester, the corporations, not the government. Due process is already dead there.
But this shitty system will fine ISPs €1,500 per accused "infringer", if ISPs are not able to turn over 150,000 personal identities per day. And defence comes AFTERWARDS and only in a brief "traffic-court"-like streamlined judiciary. (via oa. boingboing)
Basically Sarkozy makes these corporations now dictorial rulers of internet access in France and deletes a couple of French people constitutional rights. Think privacy rights or legal rights for defence.
It cannot be healthy to just hand over such a huge pile of private information without questions to a bunch of corporations.
This kind of moron power grabbing is unlikely to be sustainable, so let the mess begin….
See also earlier posts.